Hey Everyone! Hope your holidays are fantastic :) I've been loving apples lately, and especially with cinnamon. I thought I should round up a few of my favorite recipes to share with you all.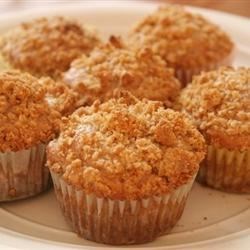 Click the link to take you to a delicious Apple Cinnamon Muffin recipe on All Recipes. They'll melt in your mouth and have the perfect crumbly factor (especially if you devour right after they get out of the oven!).
Ingredients:8 cups chopped Fuji apples (about 6 apples)
2 tbsp. brown sugar (not packed), divided
1 1/2 tsp. cinnamon, divided
1 1/2 cups old-fashioned oats
1 cup light vanilla soymilk
1/3 cup sugar-free pancake syrup
1/2 tsp. salt
2 tbsp. light whipped butter or light buttery spread (like
Brummel & Brown
)

Directions:
In a large bowl, mix apples with 1 tbsp. brown sugar and 1/2 tsp. cinnamon. Stir to coat apples well. Transfer to the crock pot.

In the empty bowl, combine oats, soymilk, 1 tbsp. brown sugar, 1 tsp. cinnamon, syrup, and salt. (All remaining ingredients except butter.) Add 1 cup water and mix well.

Add oat mixture to the crock pot, and gently stir. Cover and cook on high for 3 hours or on low for 7 hours.

Add butter and mix well. (Do NOT forget this step. Stick a Post-it to your timer if you have to!) Serve and enjoy!

MAKES 5 SERVINGS
*One giant cup has only 250 calories!
Warm Cinnamon Apples
This recipe is super easy can be eaten as a (healthy!) and tasty snack. All you have to do is slice up a apple. Place apples into a microwave safe bowl and sprinkle desired amount of cinnamon (depending on liking) and mix. If you like it sweeter, add a no-calorie sweetener packet and mix as well. Then, place bowl in microwave for 1 minute. Stir a bit and enjoy.
**OPTIONAL: If you prefer to not heat it up, they taste great cold also.
**For a tastier treat, crumble up a graham cracker on top of the warm apples. If wanted, you can also add a squirt of whip cream or Fat-free Cool Whip. Yum!
Hope you enjoyed my Apple-Cinnamon Recipe Roundup. There are a variety of ideas depending on amount of time needed to achieve the meal, and for different snack options. Happy Holidays :)
XOXO Charlotte